CHAR YONG ASSOCIATION

Remembering Our Roots
TYPE Institutional
STATUS Competition
LOCATION Singapore
CLIENT Char Yong Association

1. SITE CONSTRAINTS

The site is immediately surrounded by Singapore's infamous red-light district and budget hotels that are frequented by the unfavourable. The site has also a West to East facing that needs to be addressed.

Our proposal seeks to address these constraints to create a modern and culturally rich hub for CYA, CYF and the local community.
2. CULTURAL CONTEXT

The Hakka came from a long line of Nomadic people, often traveling from place to place, escaping wars and persecution. Their ancestors slowly developed their tightly knit and resilient communities which were embodied by their distinct ancient Tulous (Earth Dwelling) that served as protection.

Char Yong and its wider Dabu County area was where some Hakka came to settle, with terraced rice paddy fields, valleys and rivers that come through the area.

3. COMMUNITY


Conceptually, we would lift up our protective Tulou, in order to welcome the community surronding the new Association Building.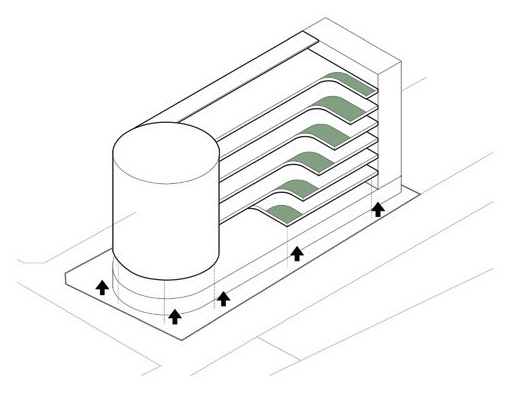 4. FORM AND LANDSCAPE

The mash between Tulou and landscape is encapsulated in our design.

Terracing elements of the Landscapes of Char Yong, is introduced through the tierd garden spaces that take inspiration from the elements used in the construction of Tulou such as bamboo that was used to fortify its walls, to the Half-moon ponds that fronts various notable Tulous in and around Dabu County.
5. VEILED LANDSCAPE

As programs are lifted off the 1st storey, a landscaped ramp is created.

An Architectural fin wall also starts from the 3rd Storey onwards, creating an interesting walkway under the building to bring the user to the 2nd floor event space. Community programs with a wider audience can be housed here.

The terraced garden space is also an important part of the journey along the ramp whether the user is coming up, or moving out of the building, the sequence of spaces created here provides for an interesting walk.