SHELL HOUSE

Exploring a Corner Situation
TYPE Semi-Detached House
STATUS Completed 2023
LOCATION Singapore
CLIENT Private
TEAM: Patrick Siah, Richie Chan
C&S ENGINEER: D Consultancy
QUANTITY SURVEYOR: AD Consultants
BUILDING CONTRACTOR: Poplar Construction
Responding to the unique context of a triangular site bounded by two roads and the need to address privacy concerns posed by nearby light industrial buildings, Shell House emerges as a sanctuary, providing a haven for a small family of three. The design behind this corner terrace house is deeply rooted in the distinctive site conditions and the family's lifestyle. Drawing inspiration from the forms of seashells, renowned for their smooth curves and layered structure, the architectural design aims to replicate the beauty of these natural elements and their interplay with light and space.





The design concept materializes as a series of terracing 'shells' within the house, mimicking the protective layers of a seashell. Each of these architectural 'shells' gracefully interconnects in both plan and section, forming open skylights and terraces that flood the interiors with abundant natural light. Additionally, this design approach ensures privacy for the occupants, establishing a sense of seclusion and security. The pitched roof subtly integrates into the overall design, harmoniously contributing to the protective metaphorical shell enveloping the family.
One of the primary challenges encountered is aligning the design with the site's triangular constraints while maximizing its potential. The peculiar shape of the site necessitates innovative spatial configurations to optimize the available space effectively. Another hurdle is managing the harsh morning sun from the southeast while ensuring privacy and facilitating natural ventilation. Overcoming these challenges demands meticulous material selection and precise architectural detailing to maintain the delicate balance between aesthetics, functionality, and the desired occupant experience.
To address these challenges, we extensively employ a technical stone large format tile for both the facade and the southeast-facing roof, shielding the house from the main road and adjacent light industrial buildings. This ventilated facade system seamlessly extends into the roof, providing crucial thermal insulation to combat the tropical climate.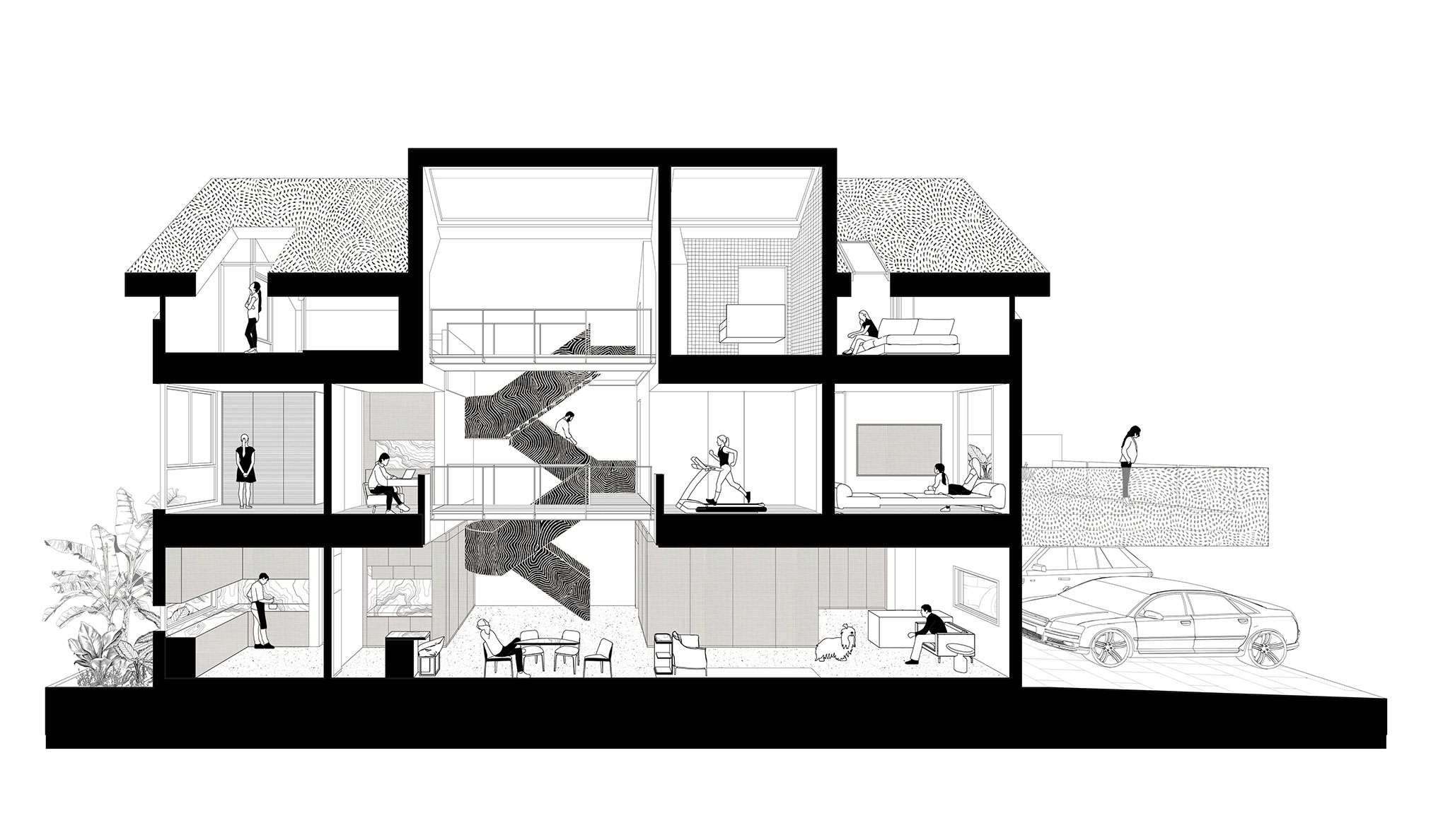 At the heart of the house lies the dining room, a key space for hosting friends and family. Visual connection to spaces on the upper floors fosters a sense of being together even among family members who may be occupying different spaces. In contrast, private spaces are deliberately placed to offer both separation and intimacy. Leveraging the terracing effect of the 'shells,' we curate distinct zones that effortlessly flow into each other, both visually and programmatically. The resulting design achieves a delicate balance between aesthetic aspirations, lifestyle demands, and the site's inherent characteristics, culminating in a residence that elegantly meets the diverse needs of the family.