APARTMENT ES
Materiality & Lighting for Mood Alteration
TYPE Apartment Fit-out
STATUS Completed 2022
LOCATION Singapore
CLIENT Private
TEAM: Iskandar Idris, Aslam Salim
INTERIOR CONTRACTOR AHC
PHOTOGRAPHS Fabian Ong

In this two-bedroom apartment at Martin Modern the main living space is articulated as a sanctum space approached by two corridors, one from the main entryway and another leading to the bedroom spaces.

The corridors function as a transition between night and day spaces, using materiality and lighting as mood alteration. Dark tones material palette, consisting of black stained timber veneer for the wall panelling and cabinetry, black marble and black back-painted glass for the kitchen counters, were chosen to contrast the main living space that features the use of natural finished white oak timber veneer.

One enters the apartment through a dark enveloping entryway corridor. The passage contains servant spaces such as storage, shoe wardrobe and kitchen, which are visually concealed by choice of black as a singular colour for the walls and ceiling. At the end of the corridor, the visual field expands as one approaches the living space due to the contrast in colour where the primary material palette is a lighter natural white oak veneer. This transitional experience of entering a lighter room creates the perception of entering a loftier and more spacious area.
For the main living area, to maximise the use of space, the seating for the dining and living is customised as a linear banquet seating that evolves to form an L-shaped sofa seating.

The storage cabinets in this area are expressed as clapboard siding, concealing them as wall panelling and, at the same them giving a sense of rhythm.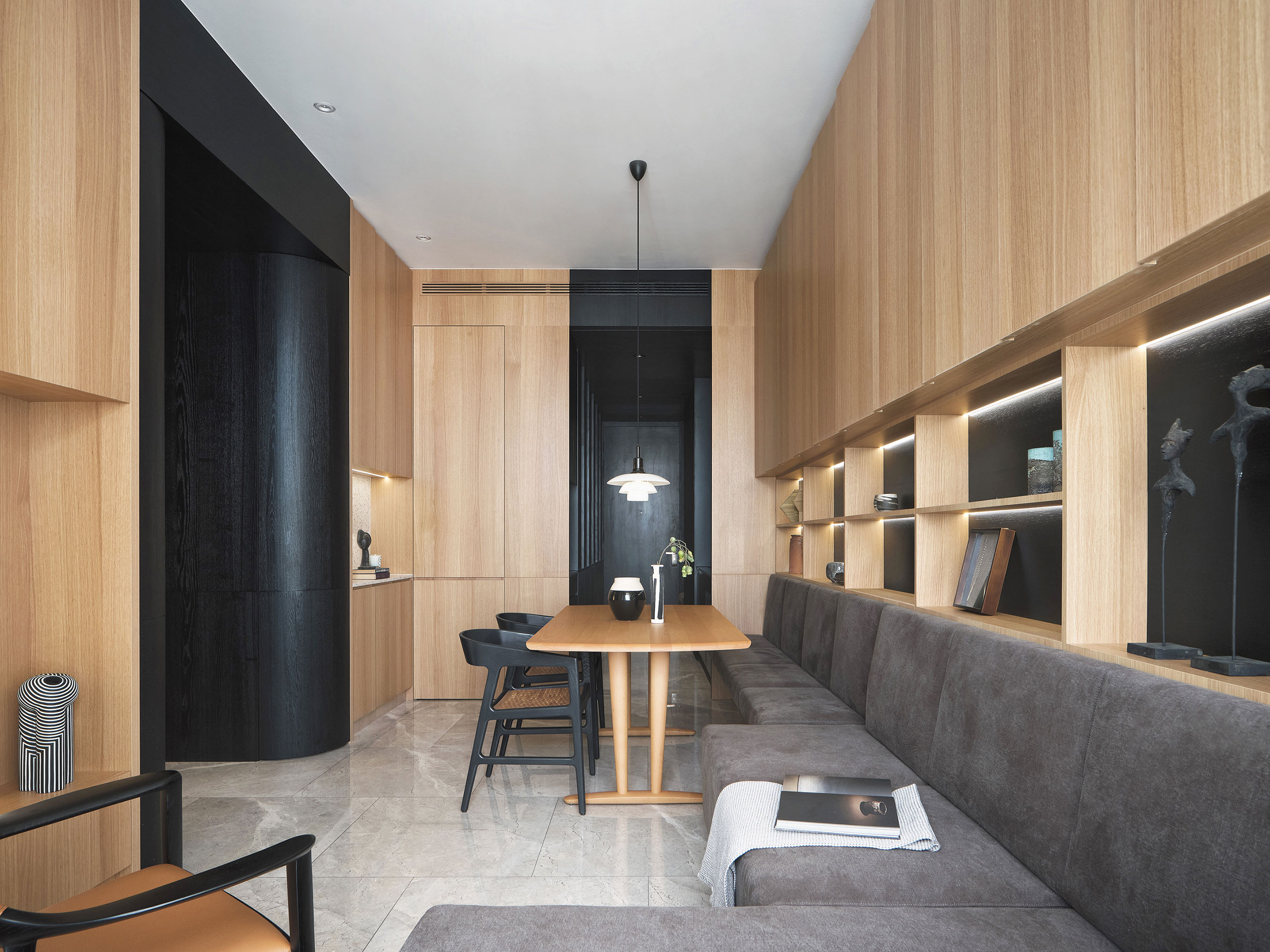 From the living area, the bedroom passageway is similar to the entrance corridor, cladded in black timber wall panelling. The opening curves towards the living area, creating a grander opening. Concealed doors replace the original doors, giving the corridor a cleaner and monumental scale.

The master bedroom features a loft bed with a study area below to maximise the use of space and access to the loft is via a series of staggered curved steps finished in tatami bamboo cane matting.